What is CLIC?
The City Logistics Innovation Campus is a complete operational urban logistics hub, innovation centre, and full-fledged campus all in one. CLIC is a flexible ecosystem for parties involved in developing the urban logistic systems and structures of tomorrow - parties who play a role in the urban logistics chain or are otherwise involved in the chain. CLIC's goal is to facilitate these innovative players as optimally as possible.
CLIC's focus
CLIC enables the companies on site to focus on their core activity - innovation. CLIC does this by providing them with an optimum range of facilities. CLIC will soon be offering shared services - including loading facilities, security, catering, extended stay options, and park management - as well as a knowledge desk, conference rooms, and even a shared fleet of electrical vehicles. The sky's the limit, and if there is a demand for it, CLIC will make it happen.
Challenges
Zero emission

Supplying cities with the goods but with less waste, less noise, and fewer transport trips.

Urban quality-of-life

Sustainable urban logistics results in a better quality-of-life in the cities: more green spaces, less traffic, and better health.

More space for better housing

The less space needed for logistics infrastructure, the more space becomes available for urban housing.

Smart and customised

Smart urban logistics makes it possible for the consumer to get exactly what he wants delivered when he wants it and how he wants it.

Smarter packaging/packing

Innovative packaging/packing methods and combining flows of goods result in less empty space in transport vehicles, less waste, and fewer trips.

Growth together with quality

In the coming years, the growth of online shopping - in the form of packages as well as food services - will not come at the cost of quality-of-life.
Better quality-of-life
The Dutch logistics sector is facing enormous challenges. Roads are becoming clogged, the planet is coming under increasing pressure, and the quality-of-life in cities is under threat. In 2025, emission-free zones will be introduced in roughly 30 larger cities in the Netherlands. To meet these challenges, we need efficient and sustainable solutions created and developed by the business community, the educational sector and the logistics sector. To improve the quality-of-life in the city, we need to reduce emissions/transports and increase the spheres of calm and quiet. Quicker delivery, where and when you wish, in your preferred sustainable mode, and cheaper as well: it's all possible.
What kind of solutions do we need?
Pickup, transport, and delivery: it all needs to be done smarter, faster, better, and cheaper. But it won't happen by itself, and no single party can do it alone. Talented individuals from various sectors have to get together to brainstorm and speed up the process of innovation. Entrepreneurs have to be willing to try new solutions, thereby making it possible for governments to also regulate matters more effectively and efficiently. That's how we can face this challenge together. The Netherlands is becoming a leader in the field of sustainable urban logistics and can position itself in the forefront when it comes to supplying these new export products/services worldwide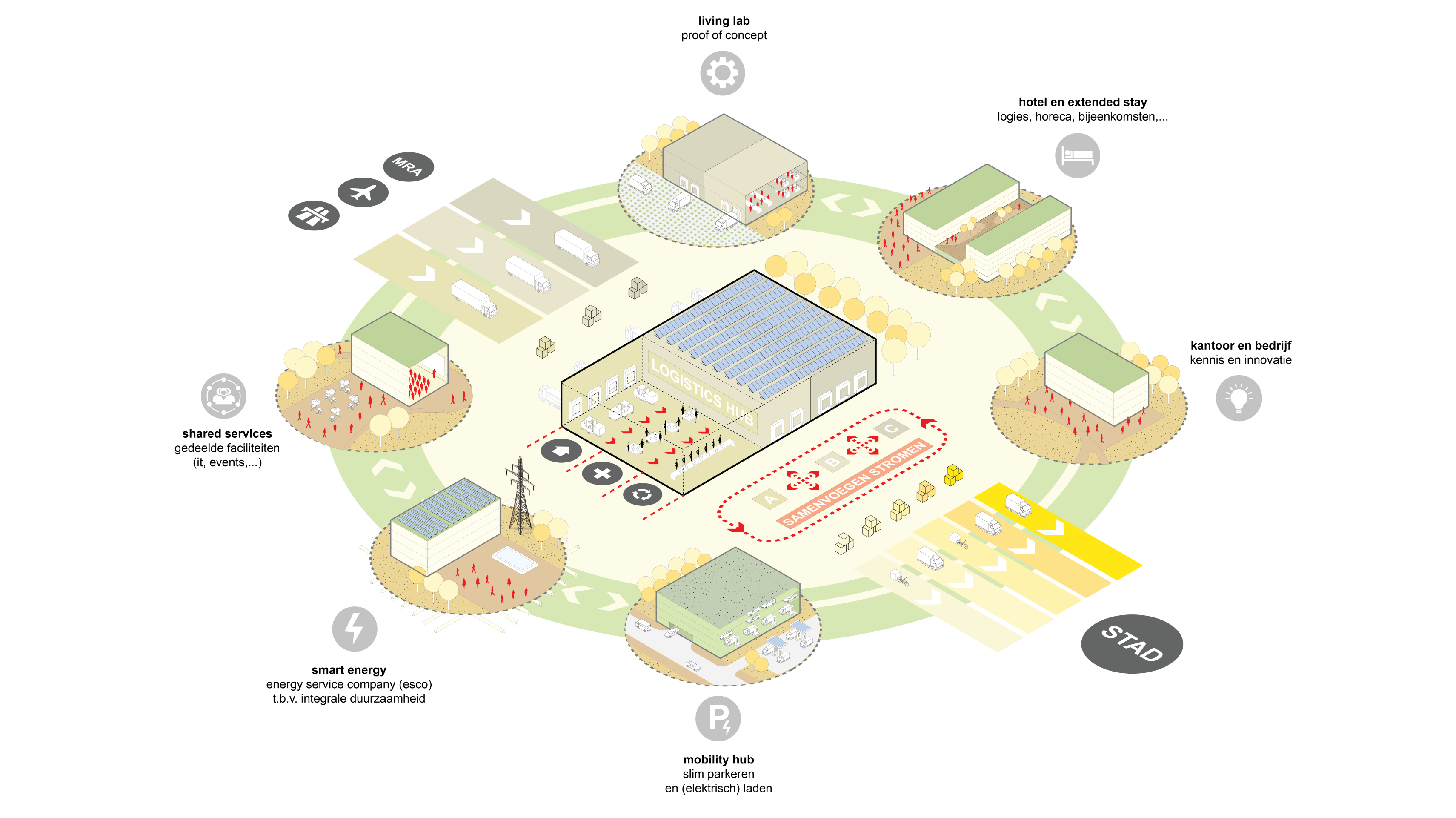 CLIC's target group
CLIC is for everyone interested in improving the quality-of-life in cities and making a worthwhile contribution in that area. Every party aiming for innovation in urban logistics is welcome to set up a base at CLIC. Major companies and as yet unknown start-ups will come together here to share their creativity and experience and to come into contact with other organisations that can provide the missing link. Companies from a wide range of sectors, including the automotive, energy, ICT, logistics, and food sectors, will exchange and share what they need at CLIC to take that next step. Knowledge institutions can share their knowledge and acquire new knowledge within the framework of innovative projects, in collaboration with Dutch and international companies. For the Amsterdam Metropolitan Area, CLIC provides a cutting-edge location for creating and developing job opportunities, expertise, and entrepreneurship.
Flexibly facilitating
CLIC facilitates flexible collaboration for innovation. Urban logistics is much more than just a hub where goods and separate flows move from and to companies or consumers. Online orders are continuing to increase, buyers are becoming increasingly demanding with regard to delivery, and trends and regulations are changing at a rapid pace. In short, the only constant in the world of urban logistics is rapid change. CLIC is very much aware that it has to continue facilitating its ecosystem of players very rapidly and very flexibly. This includes logistic hubs that can grow together with demand or that can be modified to combine flows to provide services that are needed only for the duration of a specific project. CLIC's ongoing focus is on facilitating the ever-changing needs of its tenants. CLIC provides them with the necessary facilities so that they can continue to focus on their core activity - innovation.
The location
CLIC is located in the Lijndenhof business park, a unique location with over 120,000 m2 of commercial space and a wealth of facilities, in the heart of the Amsterdam Metropolitan Area (AMA). With direct access to the A9 motorway and S106 provincial road, CLIC serves as an ideal gateway to the AMA. The location provides direct access to Schiphol and Amsterdam, and Amstelveen, Hoofddorp and Haarlem are also close by.
Complete innovation cycle
CLIC is set up to function as a hotbed for the entire innovation cycle: from original brilliant idea to successful proof of concept all the way to a completely developed operational solution that can then be applied at other locations and scaled up further. After all, innovation is successful only if the original idea can also find practical application in the real world.
Optimum environment
Every phase has its own specific limiting conditions needed for achieving success, ranging from a brainstorming conference room for coming up with an idea to a commercial space in which a proof of concept model can be produced, or a shared logistic space where the model can be tested on a small scale to a fully operational hub where it is scaled up to handle daily goods flows. At CLIC, thinkers work together with doers. At CLIC, people invent things, try them out, and roll them out, after which they are scaled up and applied elsewhere. After all, it's the projects and activities of the companies, government entities, and knowledge institutions using the facilities that are CLIC's reason for being. CLIC "simply" provides them with optimum conditions and a fertile ecosystem.
CLIC now and in future
The campus with all its associated facilities is presently under development and progressing smoothly. Once completed, it will enable CLIC to provide the business community, the educational sector, and the government with optimum facilities to collaborate on developing the type of sustainable and efficient urban logistics needed to improve the quality-of-life in cities. Are you up to the challenge? Then feel free to join us.