Location
CLIC is located in the Lijndenhof business park, a unique location with over 120,000 m2 of commercial space and a wealth of facilities in the heart of the Amsterdam Metropolitan Area (AMA). It is a high-profile location with direct access to the A9 motorway and the S106 provincial road.
The CLIC campus is located on the Connected Transport Corridor (CTC) Amsterdam West side. The Connected Transport Corridors form a national co-operative framework aimed at making goods transport safer, more sustainable, and more efficient by scaling up intelligent mobility solutions.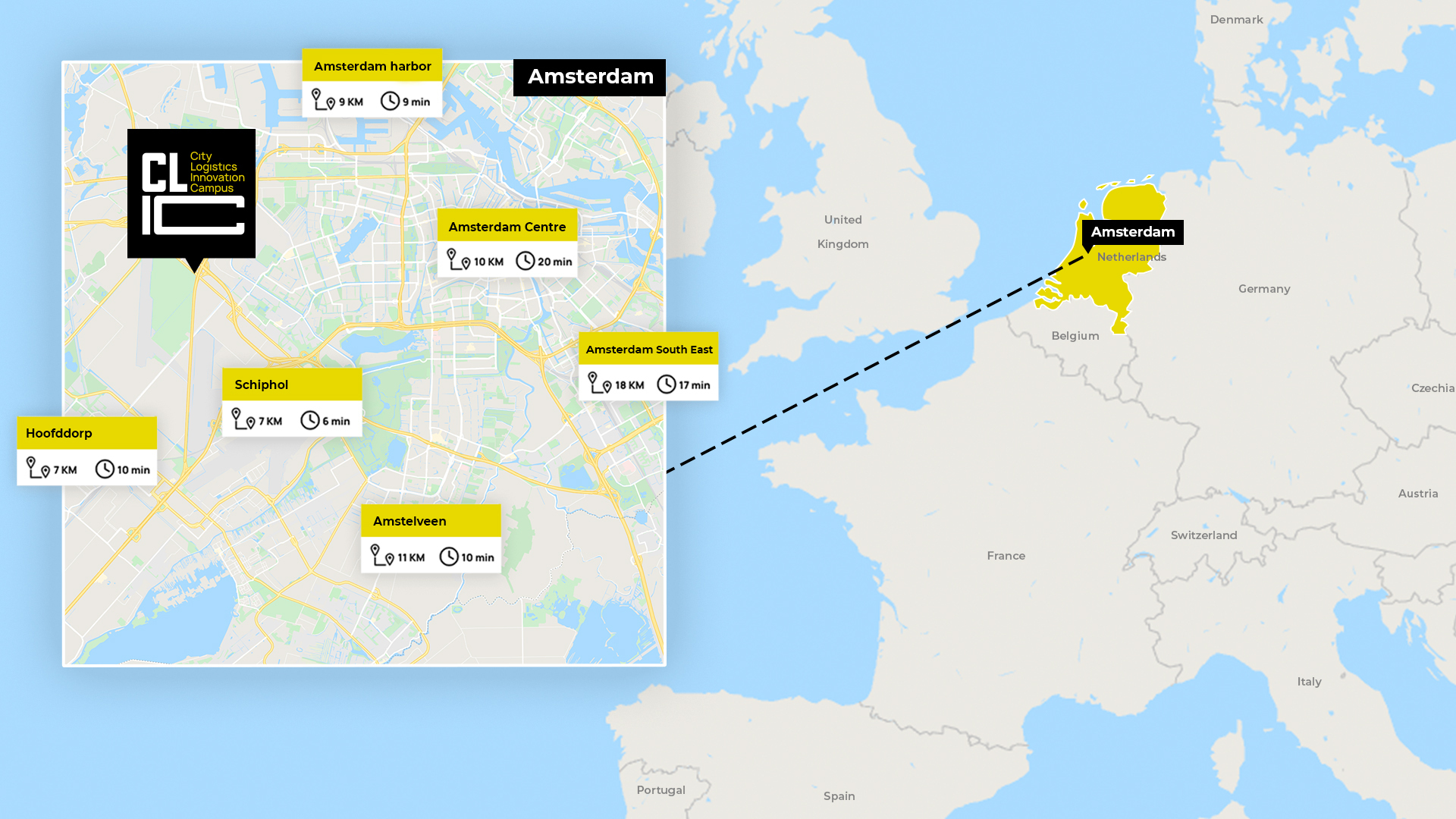 Unique
The City Logistics Innovation Campus (CLIC), the logistics innovation campus of the Netherlands, aims to make a real difference. CLIC will have a major impact on the Amsterdam Metropolitan Area and, in the long term, on global mobility. Read further to find out what makes CLIC so unique and what benefits it can bring you.
Benefits of CLIC?
The City Logistics Innovation Campus is a fully operational urban logistics hub, an innovation hotspot, and a full-fledged campus all rolled into one. CLIC is an ecosystem for players focused on developing the urban logistic networks of the future. These parties already play a role in the urban logistics chain or are otherwise involved in innovative urban logistics. At CLIC you will find all the facilities you may need, and the shared services concept allows you to get down to work more efficiently and cost effectively.
Bedrijven moeten met elkaar oplossingen bedenken en aan het begin van de keten al dicht bij elkaar opereren. Op CLIC kan dat.

Walther Ploos van Amstel - Lector City Logistics Hogeschool van Amsterdam
Modern office and commercial space
based on innovative designs customised for urban logistics
At CLIC you can find the exact hub, office, or commercial space you are looking for. The smart modular design allows you to create, connect, and furnish the exact units you are looking for customised to your specifications in terms of floor space, height, and layout. And of course, you can also expand them in line with your own ambitions in urban logistics.
Global certification including BREEAM and WELL
CLIC's focus is on achieving integrated, high-quality, and sustainable logistics processes and structures. It does this in collaboration with global certifications (such as BREEAM and WELL) that measure sustainability over a broad range of aspects including management, health, energy, transport, water, materials, waste, land use, ecology, and waste processing. Sustainable urban logistics starts with CLIC.
Emission-free transport starts with standing still for loading activities
Loading the vehicles using electrical power is an important and recurring element of urban logistics, preferably at night in a secure location, under favourable conditions, and with the option of also loading goods while stopped. Read more about the possibilities at our mobility hubs.
Meet up with each other at CLIC
After thorough preparation, City Logistics Innovation Campus was designed to ensure that it could provide added value for the companies established there, neighbouring residents, and visitors. CLIC is about bringing people together and connecting them. Everyone is welcome at CLIC to meet up with each other, to work, to engage in sports, or eat and drink. Questions about CLIC? Check out the FAQs or just contact us.
Sound interesting?
If you wish to find out more about what CLIC can do for your organisation or business (free of any obligation), please feel free to contact us at your convenience.
The rental process at CLIC has not yet started, but we are very interested in finding out more about your needs and wishes and look forward to sharing ideas with you
Caterers

'Caterers are frequently in search of a central facility for cooking. CLIC has enough space available for such a facility. The caterer would then be connected to local producers who deliver the necessary goods, and would also benefit from a zero-emission network that connects them to the customer.'

Installers

"Companies developing heat pump technology for existing homes are booming now that the region will soon no longer have access to natural gas. CLIC will have office space available where you can meet and collaborate with various corporations and major home property owners. You can coordinate flows of goods on site and prepare everything for the service engineer or technician, for example by stocking vans at night. You can also work together with the technical training sector or a commercial company."

Commercial deliveries to office neighbourhoods

"Offices located in Schiphol Airport, the "Zuidas", Haarlemmermeer and Amsterdam-West would benefit from a hub that would allow them to get everything they need delivered at one go instead of having to deal with dozens of deliveries on a daily basis."

Catering sector wholesalers

"The number of platforms available for deliveries to cafés, restaurants and hotels is steadily increasing. By offering a special assortment, such businesses can set themselves apart from the competition. Orders can be placed in a centralised fashion, and the platforms are also expected to take centralised deliveries. The supplier simply makes deliveries to Lijndenhof from where goods can be clustered and sent to the client emission-free with flexible electrical vehicles."

Online foodstuffs

"Online groceries are increasingly being delivered to the end consumer, often on a weekly basis. Consumers prefer fresh locally produced products. We often still need to find effective solutions for the first mile. What is the best way to move products from farmers and producers to a hub? Such products could benefit greatly from a shared hub. CLIC could perhaps provide a solution for the last-mile neighbourhood deliveries as well."